Common Misconceptions When Buying & selling gold jewelry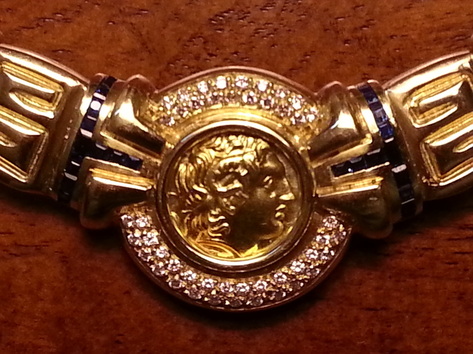 1) There are 28 grams in an Ounce of Gold, right ? Wrong


All Precious Metals including Gold are weighed in Troy Ounces. One Troy Once Of Pure Gold, Silver Or Platinum is equal to 31.1034768 grams Rounded to 31.1 grams as apposed to the more commonly known Ounce used by all of us everyday for measuring a stick of butter or the amount of cereal in a 14 oz. Box.


2) So if the 14k gold jewelry I am Looking to Sell Or Buy weighs 31.1 grams then I have a Troy Ounce of Gold, Right ? Sorry Wrong Again

If your Gold Jewelry is 14k Solid or Hollow and weighs 31.1 grams you have .583 or 58.3% of 1 Troy Ounce of Pure Gold. The Key Word here is Pure. Troy Ounces of Gold and Other Precious Metals are weighed in there Pure Form Of .999 or 99.999 % Pure.
OK.... I realize this can get a little confusing so another way to look at this it is to consider the fact that Gold is sold as 9k, 10k, 14k, 18k, 22k, and 24k. Where as 24k is equal to .999% Pure. 14k Gold Jewelry is 14 parts pure gold out of a total of 24 parts. The simple math equation used is 14/24 = .58333333 or Rounded to 58.3% Pure Gold.
Real World Example: You go to a Pawn Shop, A We Buy Gold Store Or A neighborhood Jewelry Store / Jeweler to Pawn Buy or Sell A piece of jewelry and The Jewelry in question just happen to weigh 100 grams on the nose. Well then by using our simple math equation for 14k we take 14 and divide it by 24 and get the number .583 then you just multiply this number the weight of the Jewelry. 100 X .583 = 58.3 grams of Pure Gold and 41.7 grams of mixed metals. Mixed Metals are Added Or Cut Into Pure Gold to produce 14k Gold Jewelry. The Jewelry Manufacturing Industry uses Mixed Metals such as Silver, Copper and Nickel. The Color and Amount of Mixed Metals or Cut Metals Used will determine the color and the purity of your Jewelry. The more Copper added may get you Rose Gold, or if more White Metals Like Silver or Nickel are used you will Get White Gold.



---